West Werks European Automotive repair service and maintenance Redmond Specializing in European vehicles, West Werks Automotive provides vehicle maintenance, repair, and performance upgrades for:
European: BMW, Mini, Audi, Volkswagen, Porsche, Mercedes, Volvo, Saab, Land Rover, Jaguar
The West Werks facility features the following:
* Two Certified Technicians with 20+years experience between them
* Updated 2016 automotive diagnostic equipment and repair tools
* 10,000 square foot facility with secure storage
* Five vehicle bays with full size lifts
* Original Equipment Manufacturer (OEM) or Original Equipment Supplier (OES) Parts (the highest quality and most reliable)
* Nationwide 3 year extended warranty beyond OEM/Dealership and local repair facility standards
* After-hours secure key drop box for convenient drop-off that works with your schedule
* Complimentary loaner vehicles with each service
We strive to work with you to establish an overall picture of the current state of your vehicle and provide you with all possible information and professional advice. This enables you to make an informed decision about repairs and maintenance with the goal of keeping your vehicle running cleanly and reliably for the future.
A few of many services that West Werks offers: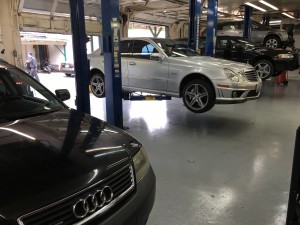 * Factory Scheduled Maintenance and Tune-Up
* General Vehicle/Safety Inspection
* Engine Oil and Filter Service
* Check Engine/Warning Light Diagnostics
* Brake Service
* Suspension and Steering
* Pre-Purchase Inspection
* Transmission Service
* Timing Belt Service
* Fluids and Filters
* Fuel Injection Service
* Walnut Blasting/Carbon Buildup Service (Direct Injection Fuel Systems)
* Aftermarket Suspension and Performance Upgrades
* Engine Swaps
* BMW CCA / Porsche PCA / and other Track Inspections
Check out our reviews on Yelp
For any other questions or to make an appointment, please call (425) 605-3561 or email us at service@wwerks.com, and we will be happy to help!